Get the Most Out of Your Professional Photoshoot!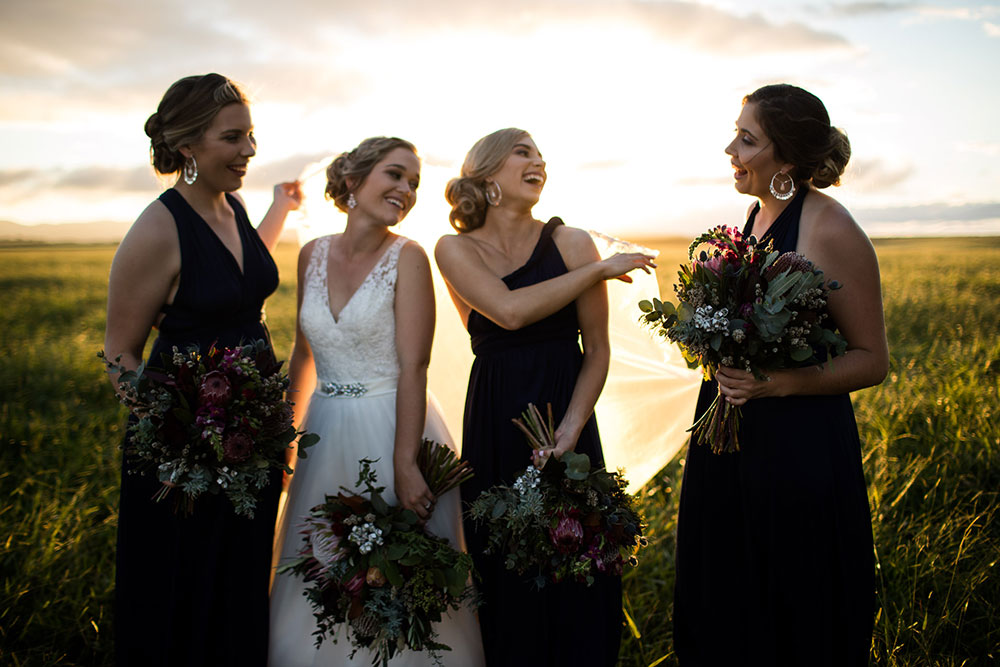 The ideal time of day for outdoor wedding portraits and engagement photos is one hour before and 30 minutes after the scheduled sunset, during "the golden hour".
At this time, the light is the dreamiest, and the sun's reflections allow for gorgeous colour and so many lighting options.
I am an all natural-light fan and even though the weather has a mind of its own, we will take advantage of every minute we have together as the sun goes down no matter if there are clouds or even a bit of rain! Sunset shots are one of the most popular wedding photography styles and I can help you plan your timeline around that. You cannot get the dreamy and divine sunset shots when the sun is still in the sky!
I also love the city at sundown, with its cool romantic vibe! With some good planning and timing, we can make sure your photos are in unique places. Again, don't let the weather or city shadows put you off because wet streets, long shadows, and even umbrellas can help create great photographic effects!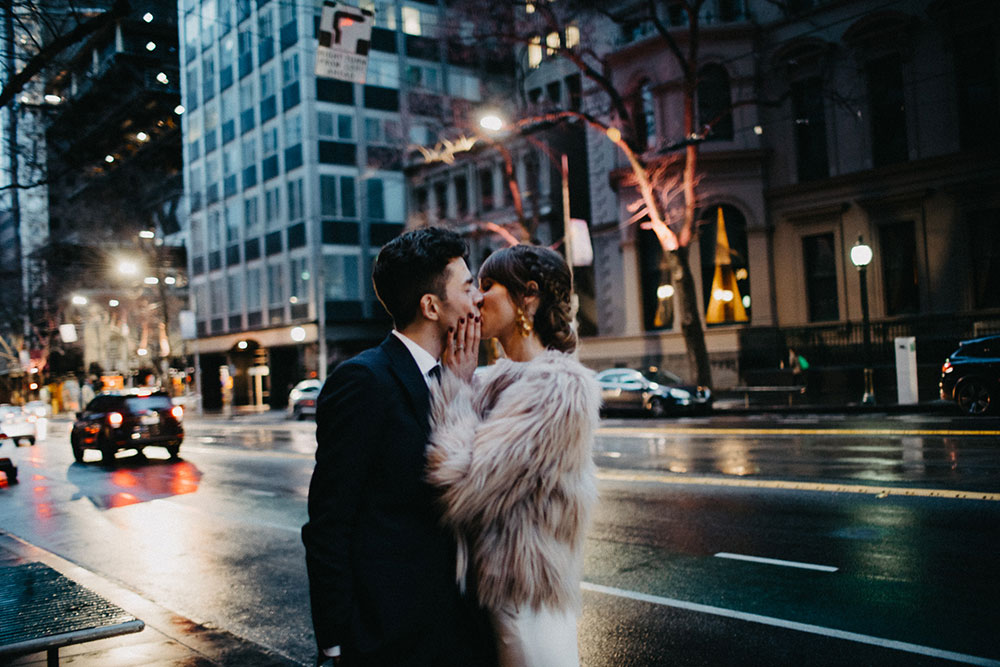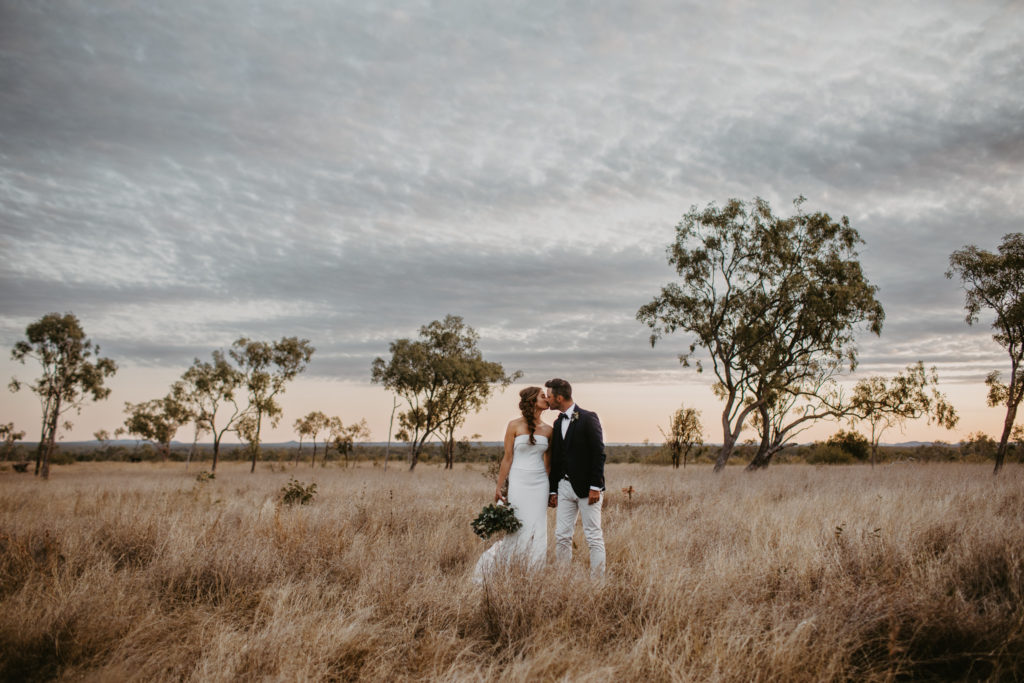 Location, location, location
The location of your shoot is essential, so trust me that I'll find the best shots of your wedding day.  For most couples, outdoor and open-air environments, are our first choice as natural light always works well. Utilising elevation is also super effective. Don't worry about "bad" weather. A cloudy sky makes for a dramatic backdrop!
Your portrait session includes one hour of FREE car travel, so be sure to use it. If you have a great location, then I'm available for your adventure!
If your location is further than one hour's drive, I simply create a custom quote. Contact me to ask about your special location!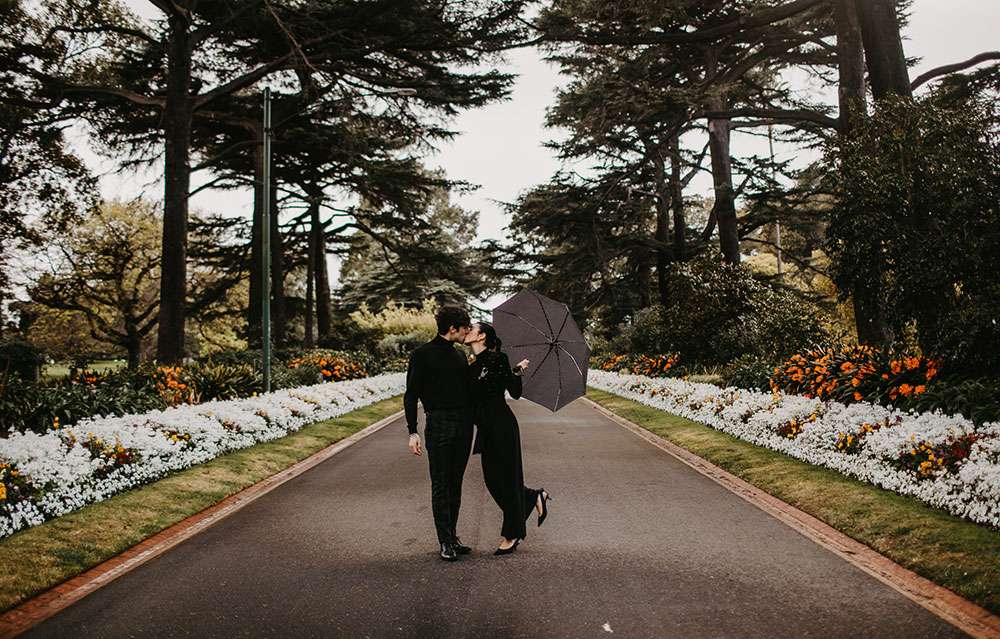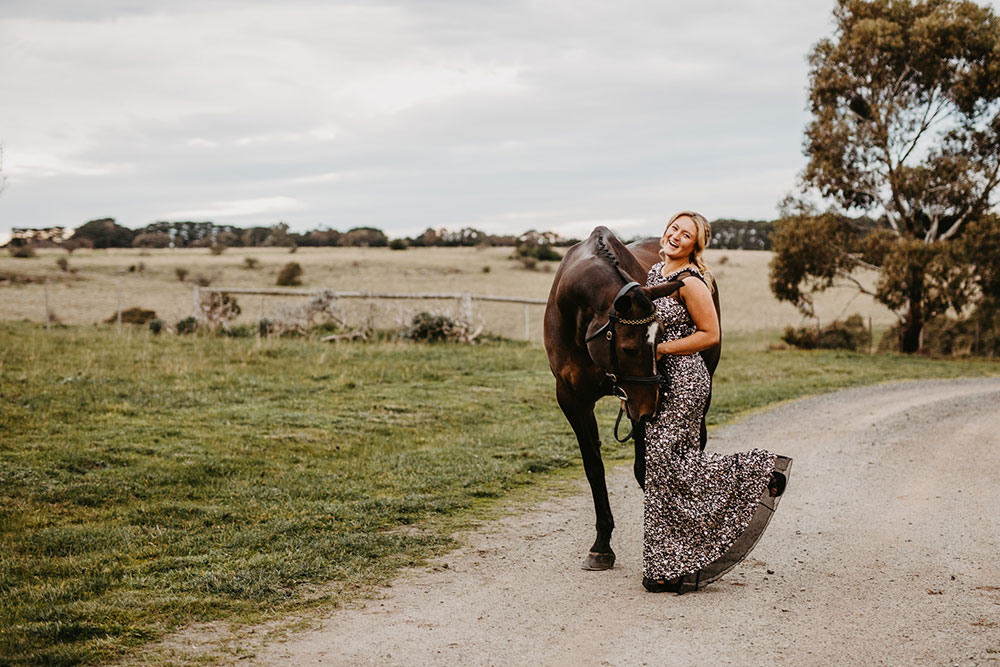 Have you thought about rocking a romantic gown, tulle skirt or flower crown but just never had an occasion for it? This is your chance to do it. There is no such thing as "too dressed up" when it comes to a portrait session, so don't be afraid to have some fun. If you don't want to add a new permanent piece to your wardrobe, consider hiring for your session, it's an affordable way to feel a million bucks!
Dresses and skirts look stunning because they flatter every female body, especially on camera. Long full-length, flowing dresses and skirts look amazing on camera because they bring extra movement to the photos, especially when juxtaposed with nature, like open plains of the Outback, river beds, hilltops or the beach. Consider softer fabrics like chiffon or tulle to add beautiful movement to your images.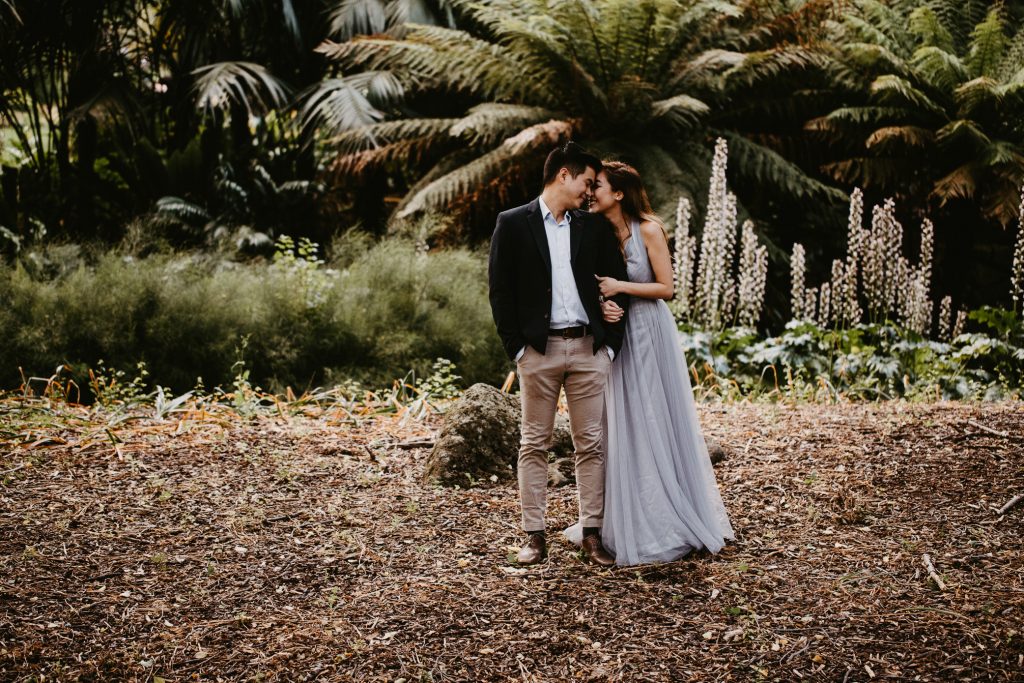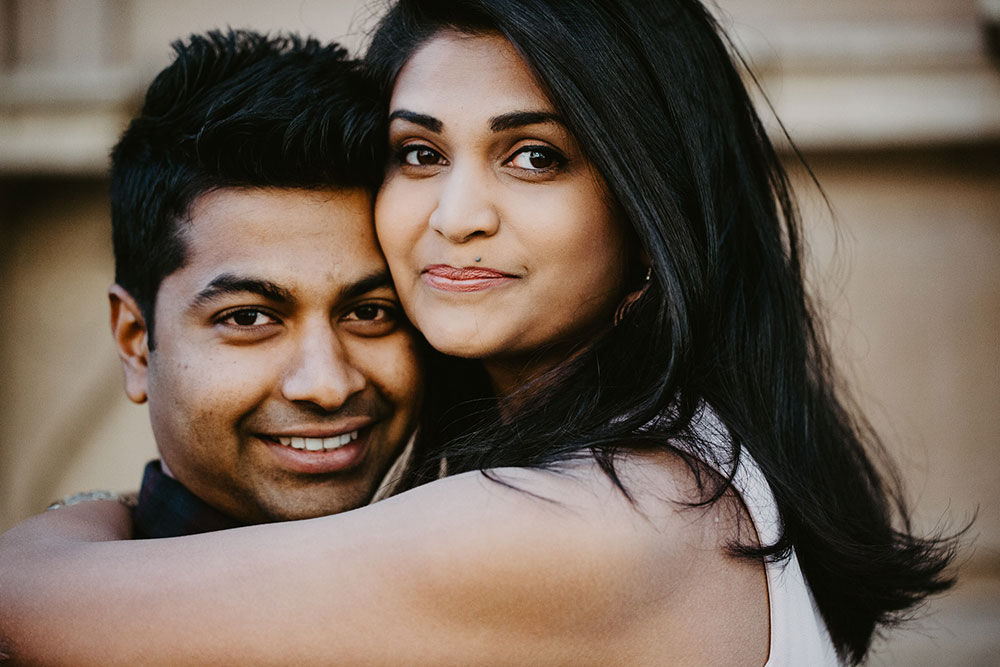 Soft colours, bright eyes
When choosing the colour for your outfit, I recommend selecting softer, lighter tones and more muted shades. By avoiding ultra-bright, bold colours, you help bring all the attention to your faces and let the eye focus on the way you feel about each other. The camera loves shades of soft pink and muted blues mixed with sophisticated neutrals like heather grey, cream, leather brown and white. A softer colour palette also fits beautifully into almost all natural outdoor environments!
Regardless of her shape, every woman has an area of her body that she's self-conscious about, so choosing flattering styles and colours that complement your natural features is the best way to ensure you'll love the way you look in your photos. Three-quarter length sleeves create an excellent slimming effect on all arms. Bring a cute jacket, blazer or cardigan along. Skinny straps or strapless dresses have the opposite effect on camera. I recommend avoiding them if your goal is a set of slimmer-looking arms. Heels elongate women's legs, making them look fabulous. Closed-toed heels, in particular, look great on camera because they carry the line of your leg down to your toe!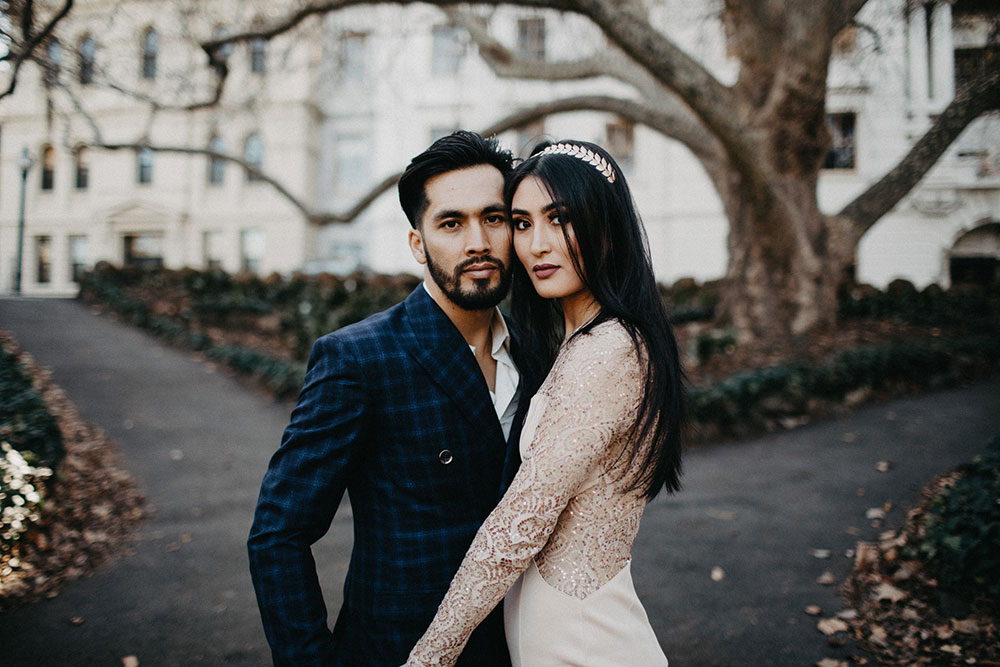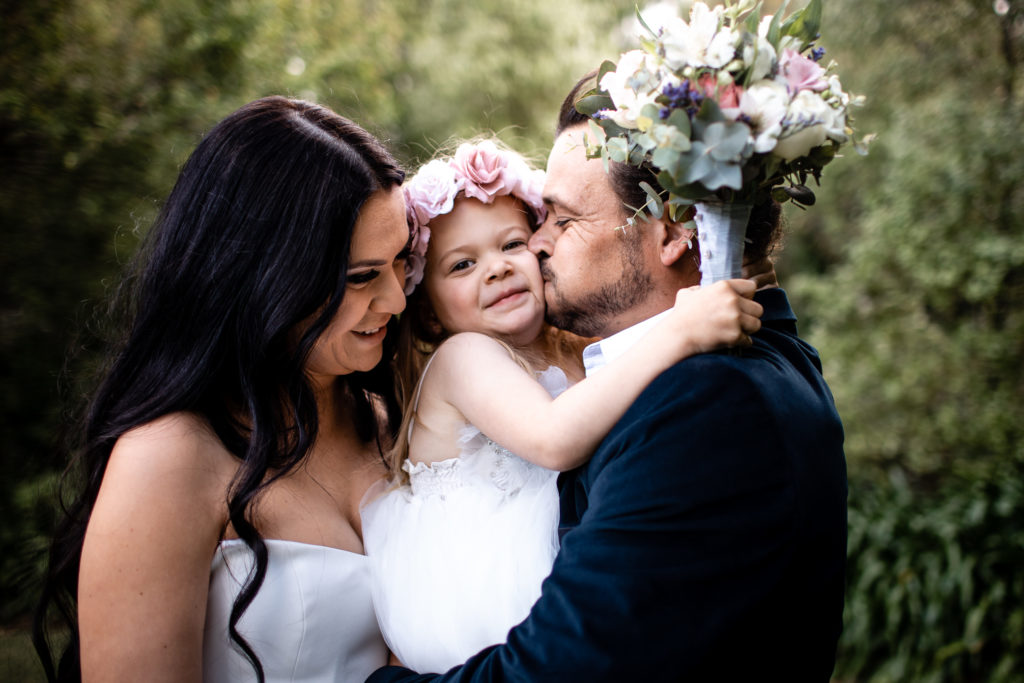 Make an accessory statement!
Pairing an accessory, or two, with your outfit can help bring some extra dimension to your images and be a nice tie-in when you're coordinating with a group. Big statement necklaces bring a lot of "pop" to the photos, while the small delicate ones are not as noticeable on camera.
Belts, bracelets and earrings bring great visual interest, so choose one or two that don't compete for attention. Fresh flowers in a crown can be a really romantic touch for you, or your bridesmaids, as well!
Professional hair and makeup are on the top of most of my clients' checklists because it looks incredible on camera and removes the stress of getting ready on your own. A photo shoot is a bloody great excuse to treat yourself! Whether it's lash extensions or blown-out hair – professional hair and makeup will give you an extra boost of confidence in front of the camera, and it always photographs like a dream. Confidence is key and always makes the best accessory 😎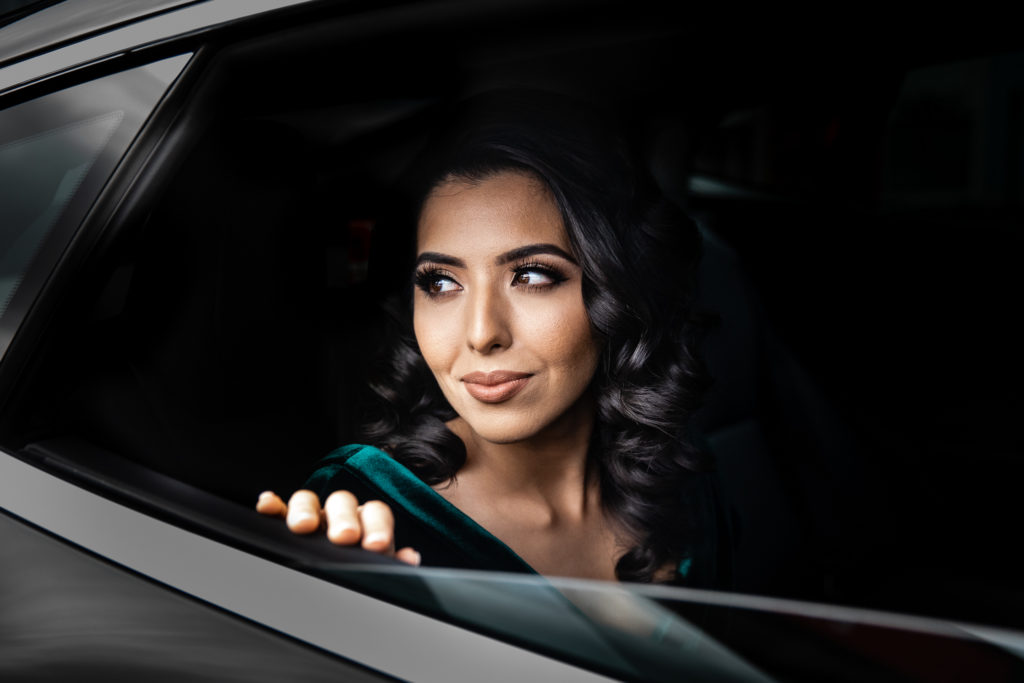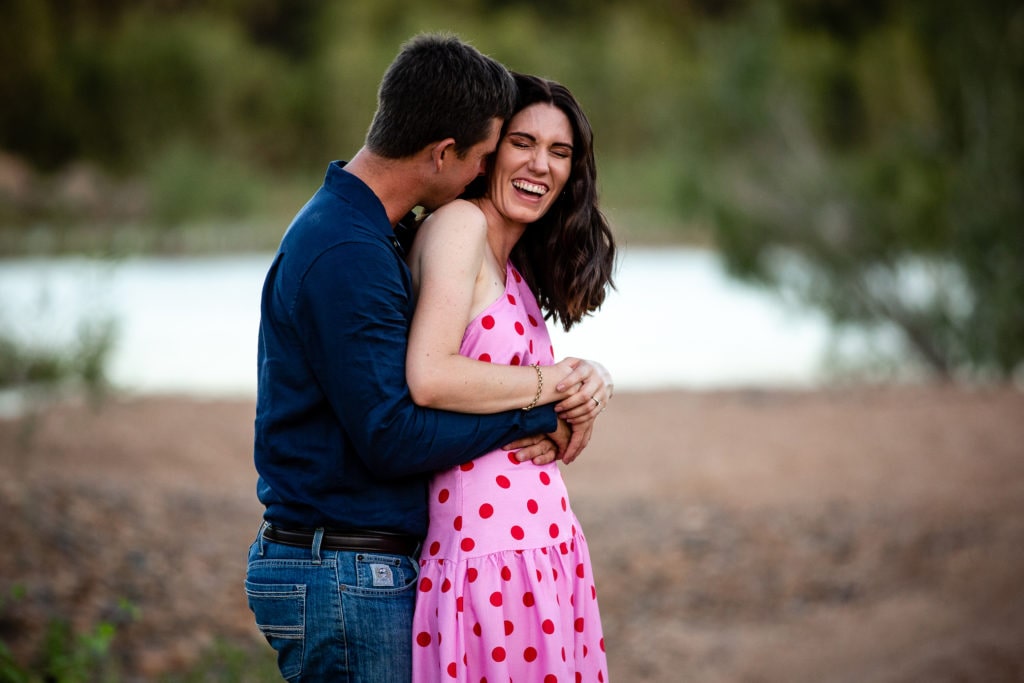 Although it might seem counterintuitive, I strongly recommend that you stay away from professional or DIY spray tan before your session. Even if applied a few days prior, spray tan tends to photograph orange even when applied subtly by a professional. Your natural skin tone will photograph the most beautifully.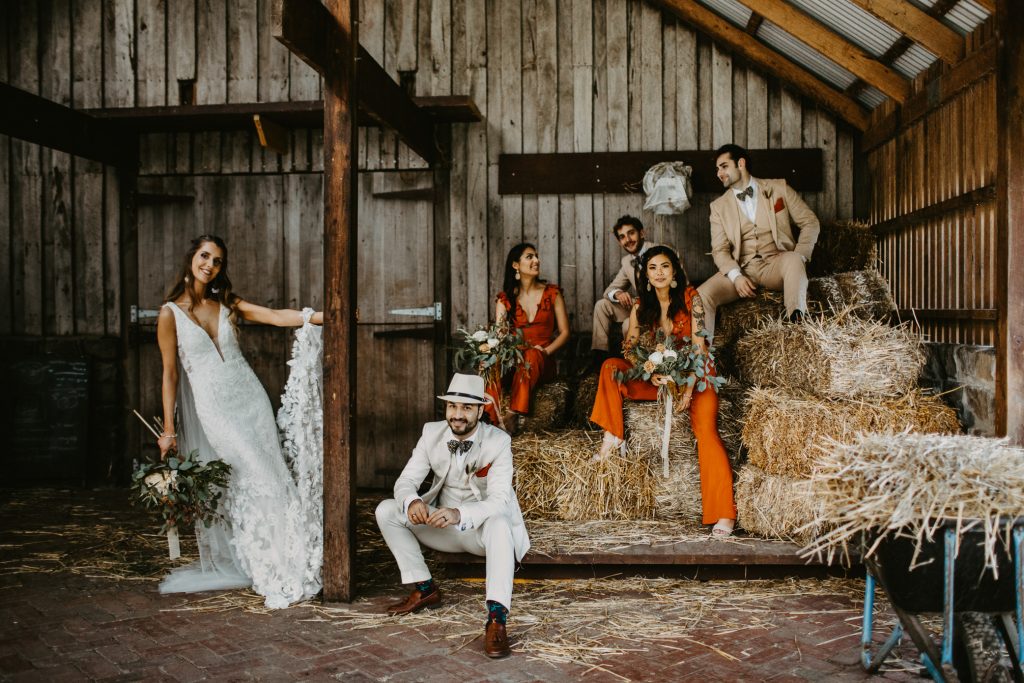 Long fitted trousers and closed-toed shoes are the most sophisticated and masculine look for men and work best on camera. They draw attention away from your legs and feet and place it where you want it, on your handsome face. For your photoshoot, it's best to leave the shorts, sandals and jeans at home, as well as any baggy trousers and oversized shirts. Dapper and debonaire never go out of style!
Solid colours are better than patterns, plaids, checks, and pinstripes, all of which tend to distract the eye. Remember, the camera loves paler shades over electric, neon, or bold hues. So beige, cream, grey, pastel blue, soft pink, leather brown and white are all excellent complementary colours to most women's outfits. I also recommend staying away from graphics and logos.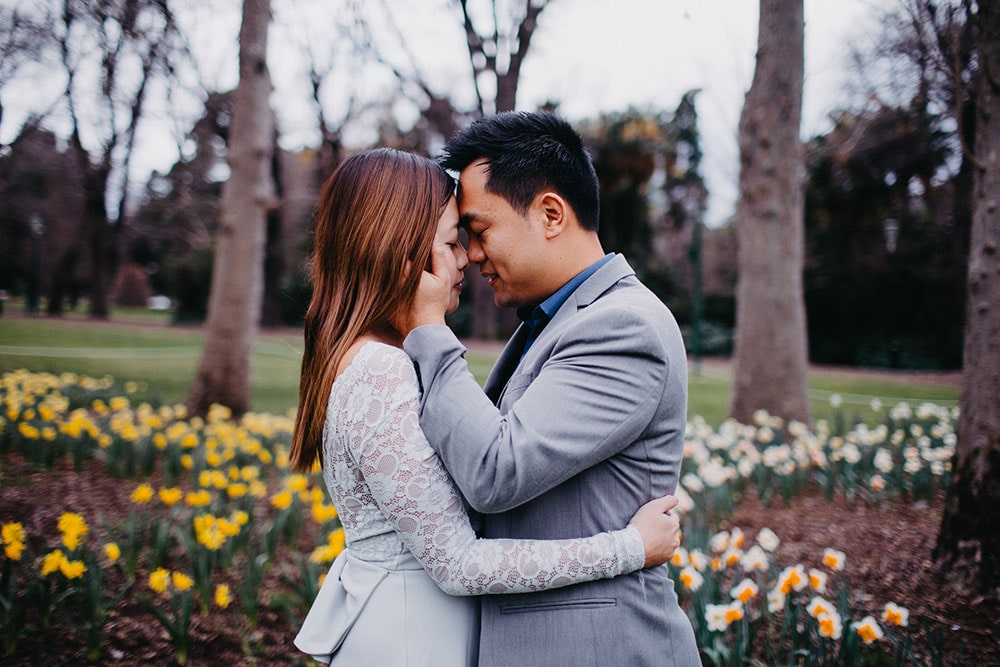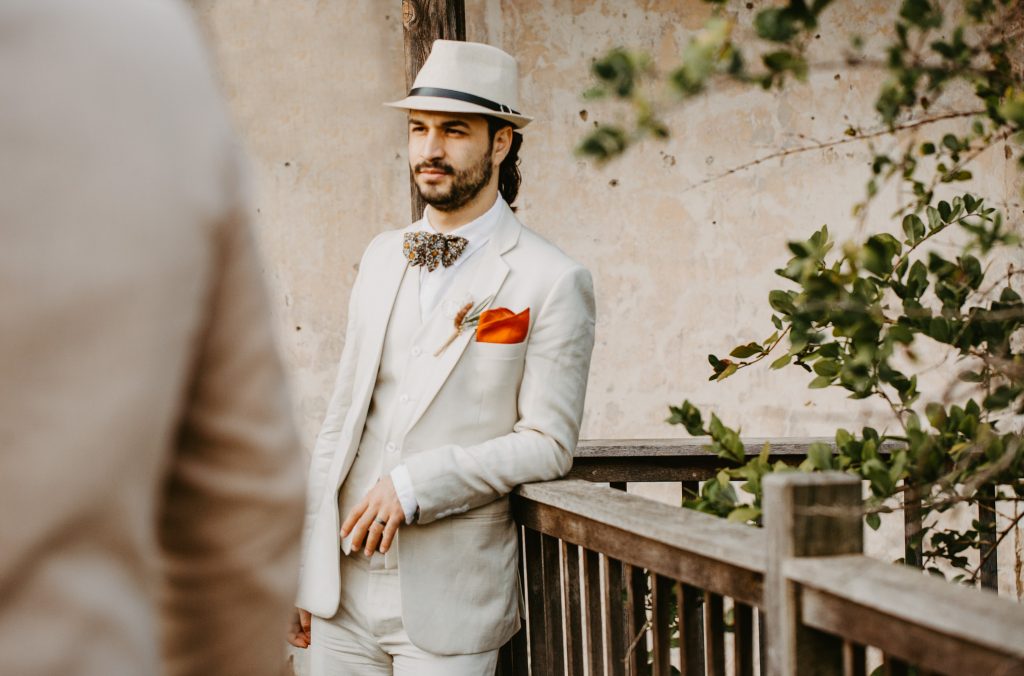 Layers on men look great on camera, so even when it's hot outside, trust me when I say it's worth 90 minutes of discomfort for photos that will last a lifetime. Adding another layer will bring extra dimension and visual interest to your photos. Blazers, vests, and hats will "up" the level of any look. If the temperature permits, you could even consider adding a v-neck sweater with a pop of colour from a collared shirt and tie underneath. Don't be afraid to get a little creative with layers.
Many of my guys love to mix a suit coat, blazer or sports coat with a different trouser colour. It adds some extra visual interest and breaks up the colour tones. I'm a big fan of this timeless classic.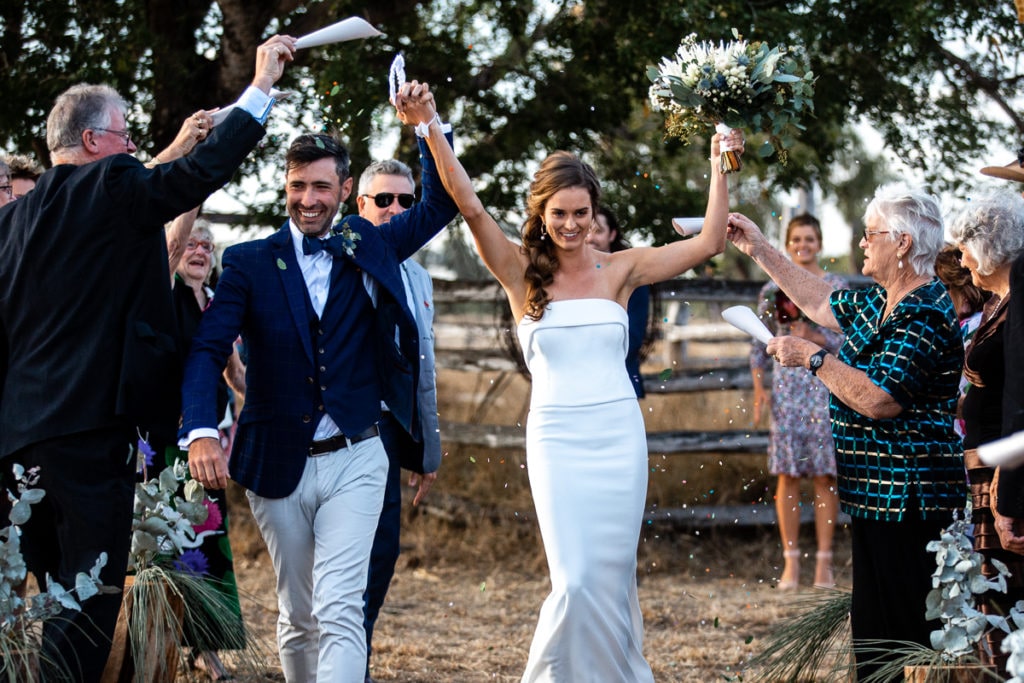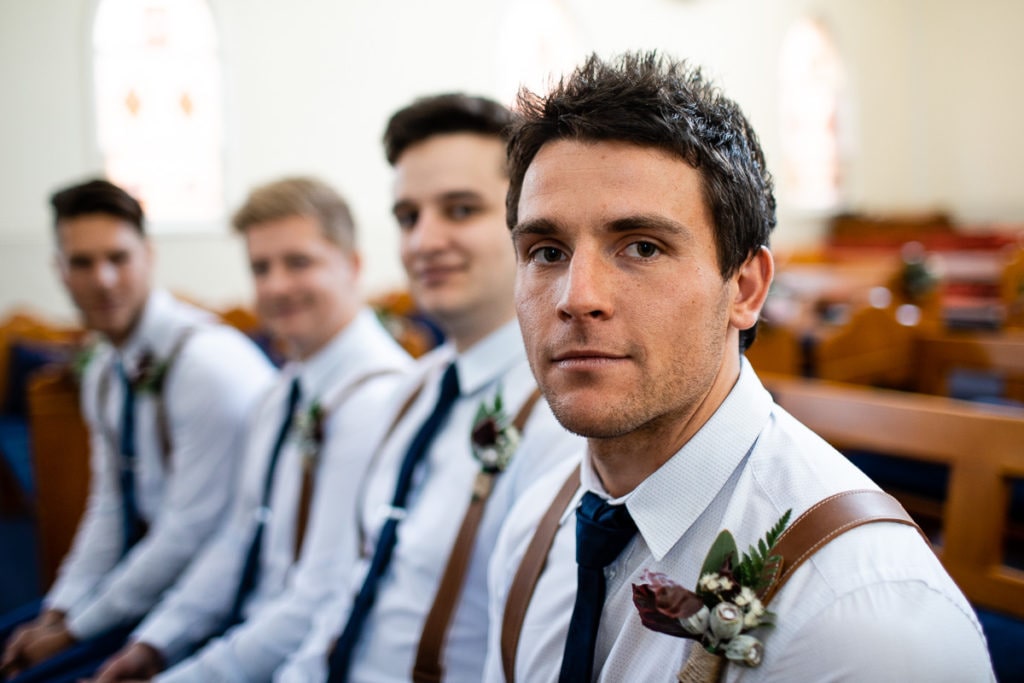 Ties, bowties, pocket squares, coloured socks, belts, tie clips, suspenders, vests, and watches are sharp compliments to any outfit for men and boys alike. Pairing an accessory, or two, with your outfit can help bring some extra dimension to your images and be a nice tie-in when you're coordinating with a group. Brown-leather dress shoes also complement almost every look, whether you're wearing a full-colour suit, colour blazer or coloured trousers.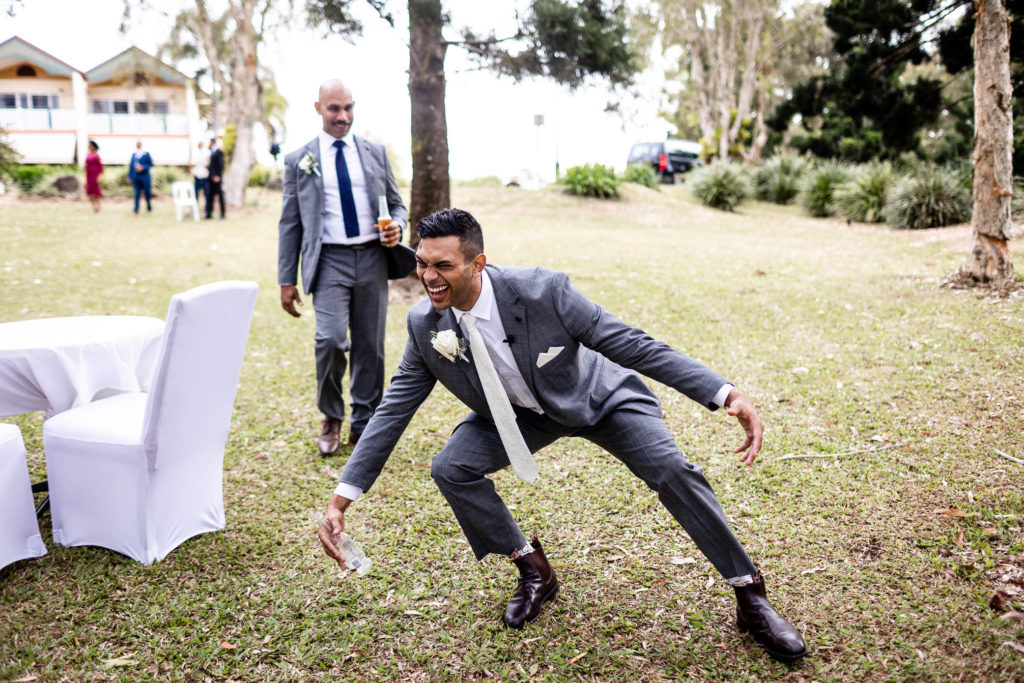 Most blokes aren't overly excited to take photos, ya know?! But capturing your love, your family and your life's work is important. Kids are fantastic participants and get it bang on; it's us adults that hold back. So channel your inner child and allow your own self-expression to shine. I always ask my couples to suspend their (perceived) awkwardness. Just be with each other, and just be in love. You will be amazed at how good you look.
I just gave you a lot to think about!
While I created this guide to give you ideas, at the end of the day, the shoot is yours to create, your way, so however you go about it, it will be perfect. I can't wait to get you in front of the camera, hear your story and capture you at your best. Let's have fun and create magical images!