Wedding planning is often considered an incredibly stressful, difficult process during what is meant to be such a happy time. Brides can feel alone, pushed to their limits, and often consider how simple and more interesting elopement sounds with each passing day.
However, if you take a bit of help from people who manage large projects for a living you can make your own wedding planning clear, straightforward, and even … fun. So today let's cover one of the basics of project management: focus.
We often lose focus during large projects. It's important to regularly review these levels and consider not only the day-to-day actions you need to take but also how it fits into your projects and, of course, the wedding as a whole.
The way we look at each level of focus is as if you're on a plane trip. When you're 30,000 feet up you can see far. You see cities at a time. The details are small, but you see the big picture very clearly. As the plane starts to descend you can see more and more detail but less and less of the whole. We call these different levels "horizons."
There are 6 main horizons of focus that you will want to focus on: your relationship as a whole, your wedding vision and goals, the general and overall plans, your supplier categories, projects to get done within each supplier category and your actual calendar and to do list. Phew! That's a lot, let's break it up.
Horizon 1 – Relationship Health
Most project management books will teach you to start at the lowest horizon and remember to work your way up. Unfortunately, that means you rarely get to see the big picture but in wedding planning we need to consider the opposite – keeping your relationship healthy is more important than planning a perfect wedding. (Yes, really!)
So let's start at the top – your relationship will take a backseat during your wedding planning unless you prioritise keeping it healthy. Do you have a regular date night? Keep it going. Don't make every date night "wedding planning night" instead. Go out, have fun, live your relationship during your wedding planning. If you can stay mostly organised on other horizons you shouldn't have to lose what makes you and your partner love each other. When things get stressful look here first. Is the relationship getting attention?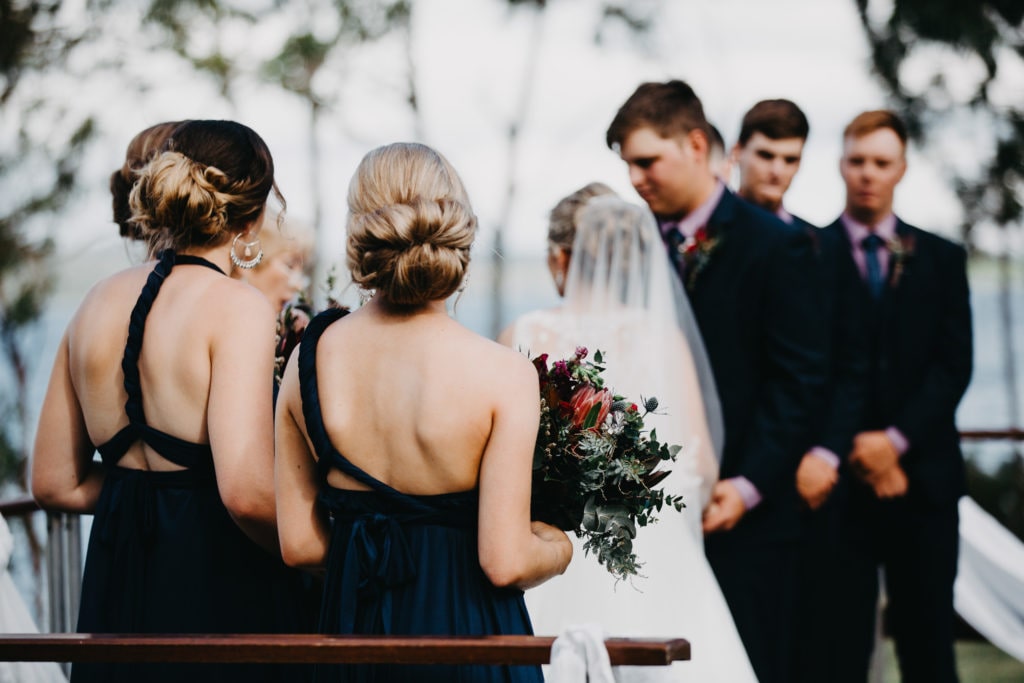 Horizon 2 – Wedding Vision
The next horizon to look at is the wedding as a whole. What are your goals? What is the vision for your wedding? Go beyond "I want a beautiful day with family and friends" and into what aspects of your personality you want to show. Are you outdoorsy, fun, elegant & classy? You should express yourself at your wedding so choose a vision and regularly review it.
One example of this would be if a casual, outdoorsy couple starts to plan and the more they plan the more formal the wedding becomes. Instead of a casual backyard wedding you are all of a sudden booking a church for 400 of your mom's closest friends and a formal, black tie dinner reception. Not only are you going to be unhappy at the wedding, but the planning becomes much, much harder because you don't feel inspired or interested in what the day is becoming.
Staying focused on your vision (and keeping your family focused on what you want) is a big key to success. Sure, that's easier typed than done but will help you dramatically with the everyday planning.
Horizon 3 – General Plans
Keeping track of the big details will seem easy to most brides. Thankfully, items like "where" and "when" are super obvious when it comes to planning a wedding. You won't need help with those. But the "who" "what" and "how" can often be a challenge.
While tools like a budget planner or guest list tracker will help, this is your time to review how it's all coming together. Have you sent invitations to your guestlist? Are you on track with your vendors? Speaking of vendors …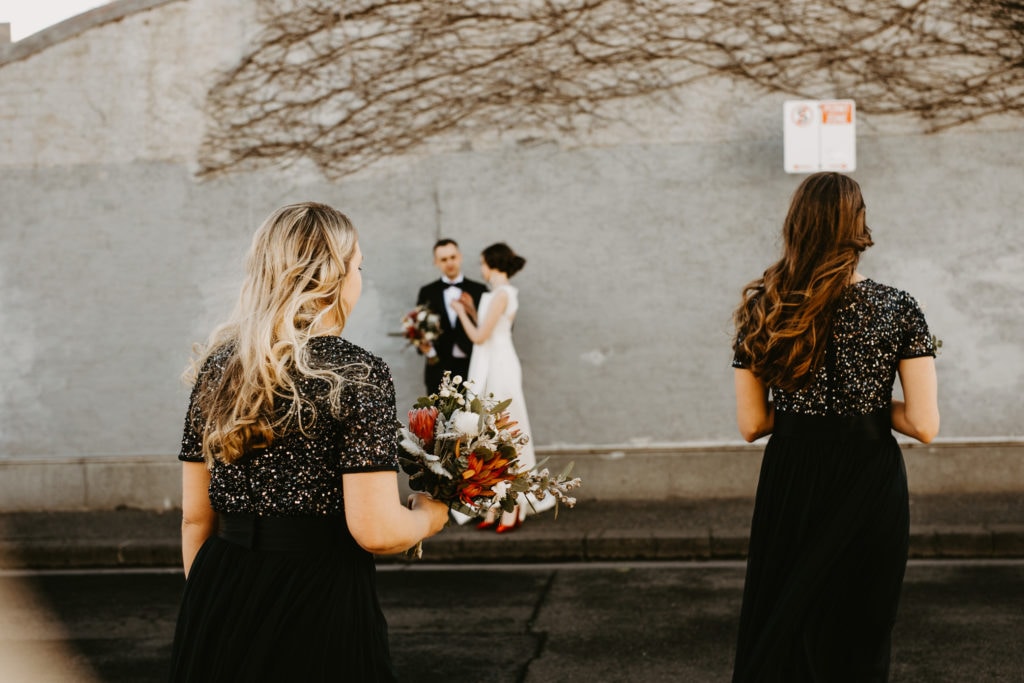 Horizon 4 – Area of Focus / Vendor Category
As you start to plan your wedding it becomes quickly apparently that some vendors need to be selected in a certain order. You shouldn't choose a caterer before you choose a wedding venue as many venues have their own lists, in-house options, etc.
The order we most commonly see selection is: venue > celebrant > wedding photography > wedding planner > dress > cars > honeymoon > catering > invitations > flowers > music > videography > formal wear > hair & makeup > cakes > specific details to you
Checking off invitations feels great but if you don't have a venue locked in how can you tell guests when and where to be? Keeping your vendors in this (or a similar) order will help you stay on track. Reviewing this horizon of focus will give you perspective on how your own planning timeline is coming together.
Horizon 5 – Projects within Vendor Category
Some vendors have multiple actions to take – we should break these up into smaller chunks. In photography, for instance, you may have an engagement / pre-wedding shoot before the actual wedding and that needs to be planned.
With formal wear you'll have the groom, bridesmaids, groomsmen, flower girl(s) and parents to think about. Breaking this down into more manageable chunks means you aren't trying to find formal kids shoes on the same day as bridesmaid dresses. MUCH less stressful!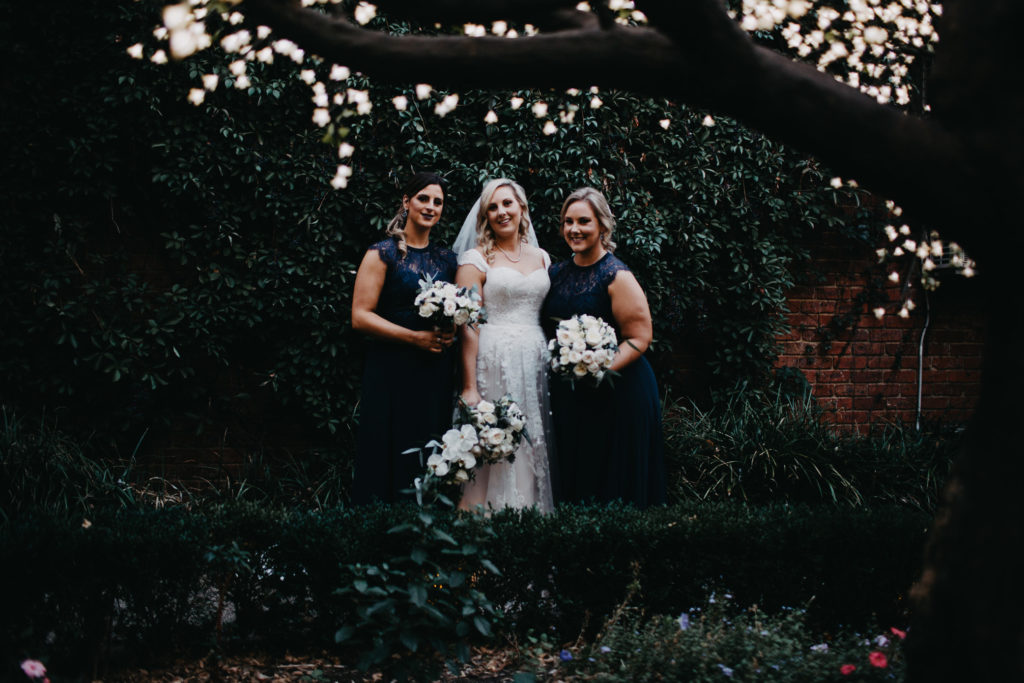 Ground – Calendar/Actions
Most of your day-to-day wedding planning will happen here. Why are we reviewing this last? It's both the most and the least important thing in planning your wedding. If you don't do these daily actions, no wedding happens at all. However, each individual action by itself is just a small piece of what will become a happy, gorgeous day.
If you don't have a task list or to do planner, it may be a good idea to get a wedding planning app that has this list built in and you can take with you anywhere. You can customise your tasks to fit your wedding and easily track and plan your whole day. An app can easily travel with you to meetings so you can make notes, select vendors or do further research on the trip home if that last cake tasting wasn't all that tasty.
It's normal to fall behind on your to do list during a big project you've never tackled before. Try to remember that you aren't alone and there are planning tools, people to help, and a lot of ways to accomplish your goals. Focus on the big picture, narrow down to take care of the big projects and worry about the small tasks as they need to be done. When you feel most stressed, review this list. Figure out which level is giving you the most trouble and put your focus there for a bit. Understanding what comes next, why each level is challenging and how to overcome that should give you the tools you need to plan a successful wedding.
——-
Guest Bio: Matt is a former wedding photographer with over 250 weddings behind him. He is currently at Easy Weddings helping bring couples together with their perfect suppliers to create amazing weddings. Easy Weddings is Australia's #1 wedding directory and helps over 80% of all Australian weddings come to life.